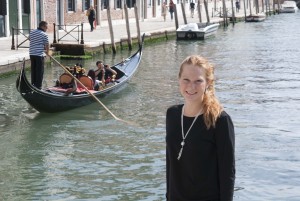 Biancardi
started in 1983 in Venice, where the owner
Pierluigi Biancardi
was born.
In his travels around the world he met
Cristina Aleu
from Barcellona, Spain. When they returned to Venice, Pierluigi introduced Cristina to all the treasures of the City on water. The blown
glass
in all its magnificent and intricate colours captured Cristina's heart and from then on they began to design jewellery
collections in Murano glass
, specializing in collections for
high-profile
fashion boutiques. Pierluigi scours the narrow alleyways and streets of Venice and Murano sourcing the needed
gloss rods, gold and silver leaves
, and moulds from the various dislocated laboratories. Cristina rigorously follows
Haute Couture
and "
ready-to-wear
" fashion, which merging with craftsmanship, provide ideas for the
design
of the new collections. Biancardi is recognized
internationally
, having participated in various international fairs and with customers spread all over the world, from the
US
to
Japan
.